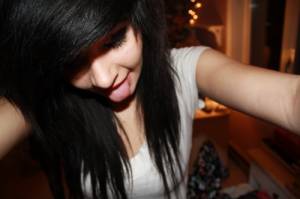 Mam 17 let in ne 12 :'D


There were moments when there was no hope. I think:it's all over. The first time was when my mother died in a plane crash. And then continued. Bad grades, my dad drank and weeks, months did not come home. Most of the time I was at Aunt Claire's. I cried and then I found out that my dog died. He was sick and I could not help it. When the weather improved I with Aunt Claire went to the cemetery and read the inscription: Danielle Vračič-Brashes 1973-2007 we will miss you and you will always be in our hearts! - Until I started crying and ran home. I was thinking about suicide but my best friend pulled me out. We had a sleepover party at my place and she noticed the pills in the drawer. She talled my aunt Claire and I had a lot of trouble. The aunt, father and others. I stopped eating and got anorexia and bulimia. At 13 years and 169 centimeters I had 32 kilograms. But I gained weight in a year 13kilos. And in the next year 6 more and eventually I became normal. And live life forward. Even if I ended up with only good memories of my mom and bad memories of those years after her death. So
NEVER, NEVER NEVER!
Do not lose hope and do not give up!
O meni
Eleanor..
ženska
20 let
Interesi
glasba

One Direction
u125700
u97075

heeeeeeeeeey
24. december 2012

Heej
D
23. december 2012
u113480
weeeeeeeeeeeeeeeeeeeeeee :'c
23. december 2012
u113480
mhmh...škoda :'cc
mislem maš BF Bff, pa too?
23. december 2012
u113480
1.coment by meeh----> ojla < 33
friends?si tle na igrah poročena?
14. december 2012